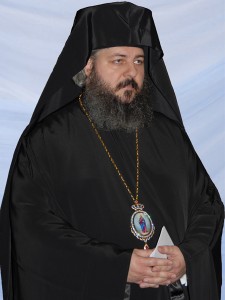 His Eminence Metropolitan Nektarios Tsilis was born in 1969 in Ioannina, Greece.
He is a graduate of Theological Academy of Athens and the Theological School of the University of Athens.
He holds Master's degree in Sociology of Religion and a PhD in Theology from the Theological School of the Aristotle University of Thessaloniki, Greece.
He has also successfully completed courses and seminars on the structure, organization, and information technologies of the European Union.
He was ordained deacon in 1990 and priest in 1995.
He served as a deacon throughout 1990-1995 in the parishes of the Annunciation of Theotokos, the Holy Unmercenaries, and Saint Sophia, in the Metropolis of Piraeus.
He served as a priest throughout 1995-2001 in the capacity of preacher of the Holy Metropolis of Piraeus, Vicar of the parish of Virgin Mary the Life-Giving Fountain, Secretary of the Metropolis' Youth Organization, and as President of the committee of the Church of Hatzikyriakou Orphanage. He was the Director of the program of the ecclesiastical radio station "Peiraiki Ecclesia 91.2FM" as well as the Deputy Manager of the magazine "Peiraiki Ecclesia".
From 2001-2007 he has served as the General Vicar of the Holy Metropolis of Samos and Ikaria, member of the Spiritual Court, Vicar of the Cathedral of St. Nicholas in Samos, Chairman of the Board of Panagia Spiliani, and Abbot of the Panagia Vrontiani Monastery.
He has participated, as a representative of the Metropolitanates of Piraeus and Samos, in youth conferences, seminars on cults and new religious movements, and issues concerning Europe's stance on religion.
He is a regular contributor to many magazines and periodicals.
On January 9, 2008, the Holy and Sacred Synod of the Ecumenical Patriarchate selected him to be the new Metropolitan of Hong Kong and Southeast Asia. He was consecrated as Bishop on January 20,2008, at the Saint George Patriarchal Cathedral in Fanar, Constantinople, and on March 1, 2008, he was enthroned in Hong Kong.